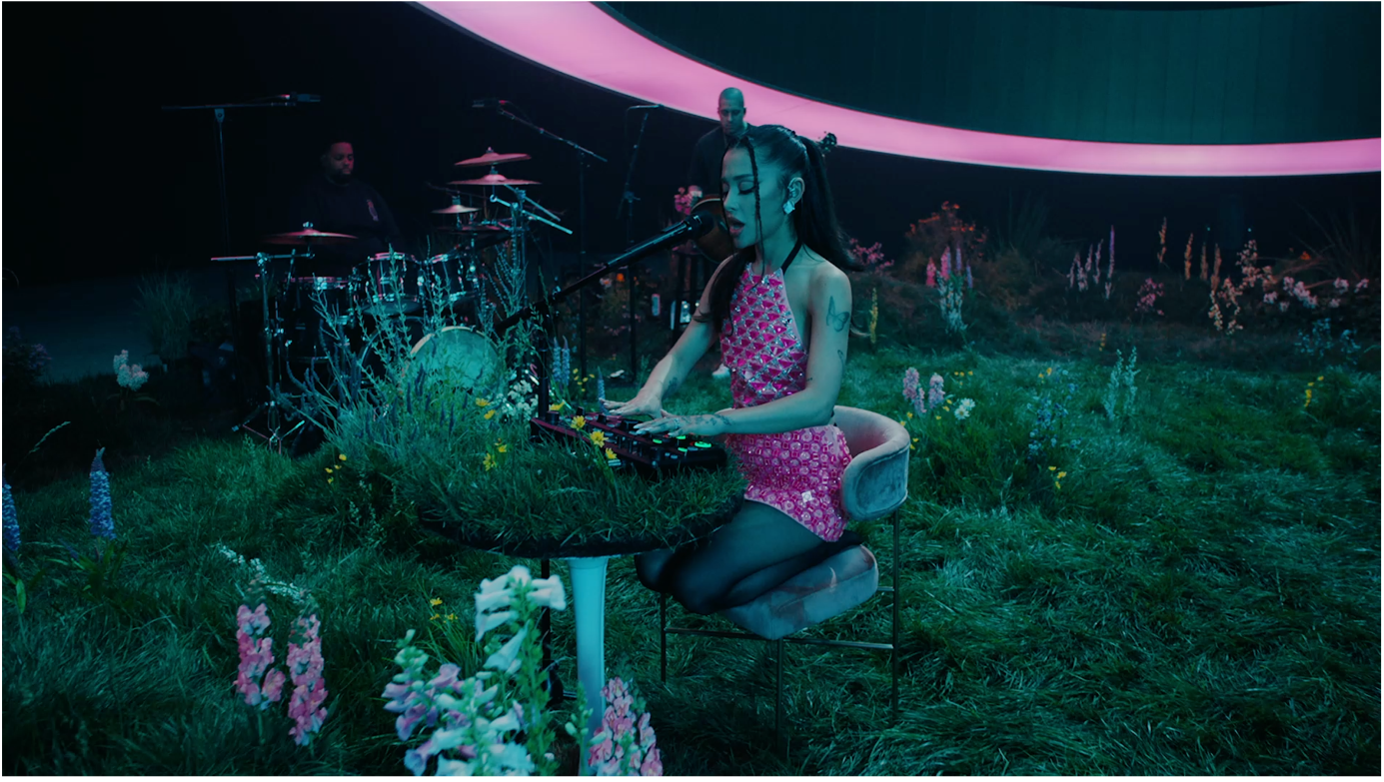 Looping Positions: Ariana Grande and the BOSS RC-505
Find out how global superstar Ariana Grande uses the BOSS RC-505 in her new Vevo video series and learn about her looping history.All Photos Courtesy of Vevoby Jack Cooper 4 mins read
Multiple Grammy Award-winner Ariana Grande has a knack for showcasing her musical skills in fresh contexts. Her exclusive six-part Vevo video series features guests like The Weeknd and Ty Dolla $ign. Surrounded by lush foliage, Grande's set culminates in a looping version of her album's title track, "Positions." For the performance, she uses a BOSS RC-505 Loop Station to achieve a swirling, ethereal sound.
Arranged by the artist, the singer's on-the-spot looping segment is a highlight in a performance full of them. Yet, this isn't the first time she's employed looping. In fact, the heartfelt vocal arrangement is reminiscent of Grande's younger years, when she performed vocal loops in her bedroom.
Speaking to Insider magazine, Vevo's creative director Ed Walker says, "That was one of the first instruments she had as a child. She would loop her vocals to make songs up."
"The heartfelt vocal arrangement is reminiscent of Grande's younger years when she performed vocal loops in her bedroom."
A Grande History with BOSS Loop Stations
Indeed, this isn't Grande's first time looping. Actually, she's been using BOSS Loop Stations for over a decade. Early photos of the singer feature a BOSS RC-300. More recently, she's used an RC-505 tabletop Loop Station, the larger of BOSS' two models. As seen in the performance, the layout of the RC-505 offers seamless functionality for vocal looping.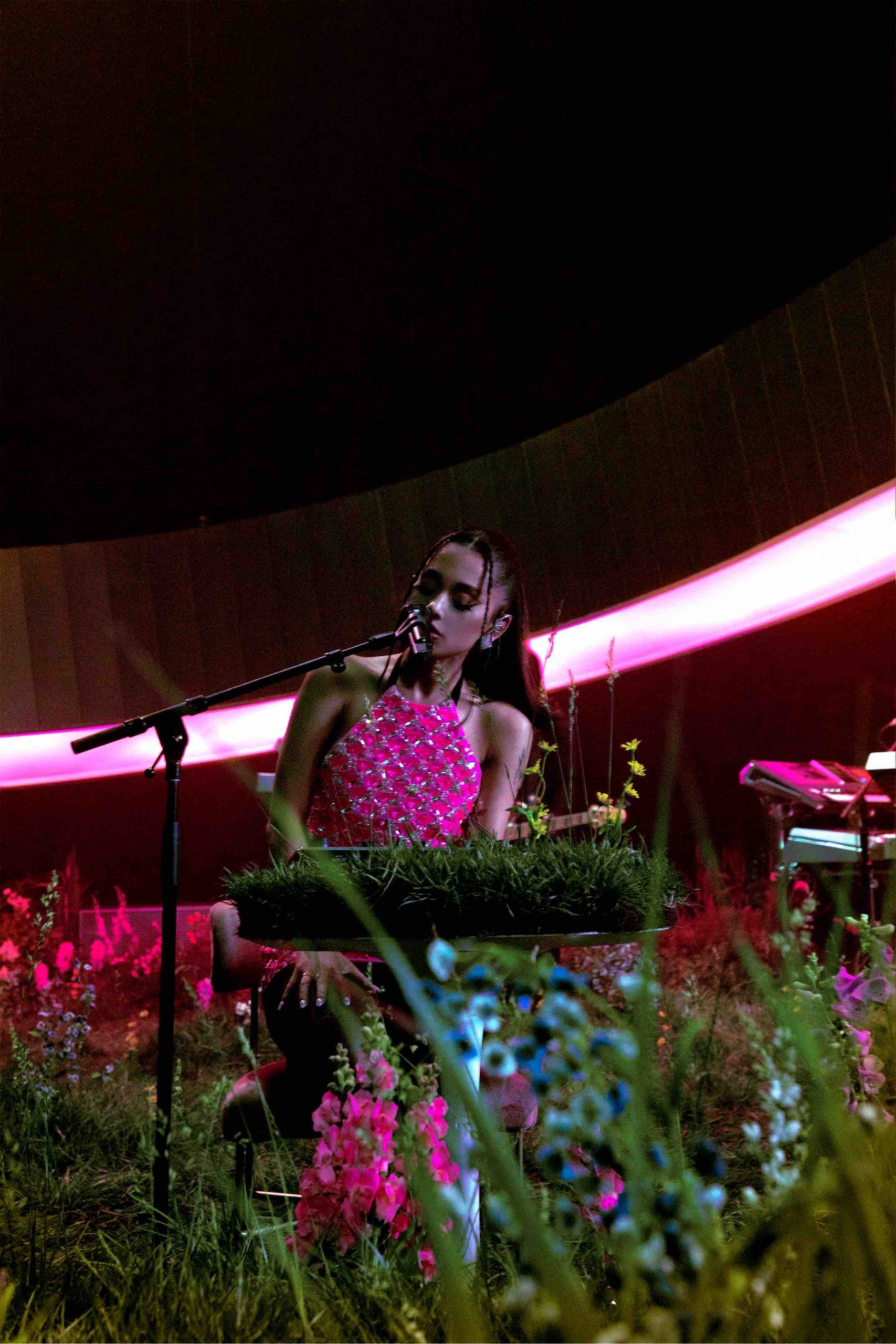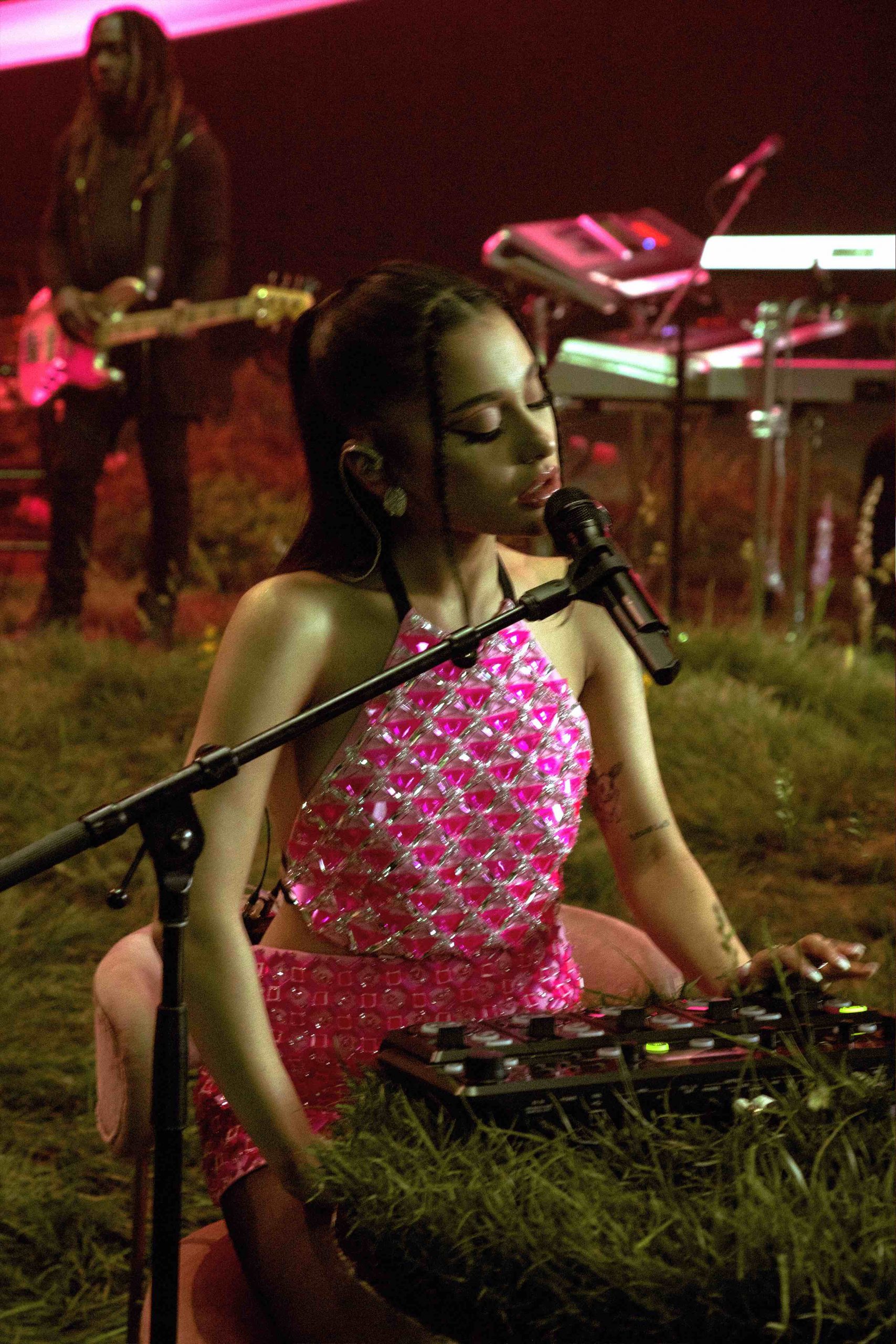 Looping = Technique + Art
Loop Stations are powerful creative tools for instrumentalists and vocalists alike. The practice of looping involves recording and layering tracks to enhance an arrangement. An evolving musical art form, looping requires precision, accuracy, and finesse. It's equally useful for songwriting, practice, and performance.
Grande utilizes the RC-505 for singing and layering vocals. On "Positions," the singer added live harmonies and supporting backing vocals. Overall, this both adds new dynamics to the track and showcases her rich vocal ability.
"The singer added live harmonies and backing vocals. This adds dynamics and showcases her vocal ability."
The Rise of the Loop Station
Loop Stations are now a mainstay of the music industry. They can layer or add structure to performances as well as supplement creativity. Looping is shaping a whole new generation of artists and hit songs. The examples of the technique's use run the gamut of styles.
KT Tunstall burst onto the music scene in 2004 using a Loop Station to perform "Black Horse and the Cherry Tree" on Later with Jools Holland. Ed Sheeran is one of the most prominent figures to use a Loop Station. His performance as a headliner at Glastonbury in 2017 was a pivotal moment for looping.
As a matter of fact, entire platforms have emerged around the Loop Station. YouTube channel Swissbeatbox creates beatboxing video clips from artists from all over the world. They are ardent RC-505 advocates, with a global audience in the millions. Additionally, Swissbeatbox runs global beatboxing competitions showcasing some of the best vocal talents on the planet.

The Future of Looping
The Loop Station continues to inspire artists like Grande, Tunstall, and Sheeran as well as others across a plethora of genres. Furthermore, the popularity of Grande's looping version of "Positions" has even inspired her fans. They're now calling on her to introduce a Loop Station to her live show. Who knows? Perhaps we'll even see an Ariana Grande-Ed Sheeran Loop Station collab someday.